The DevTeam Alpha News Aggregation service has sourced the following article originally published on WP Blog:
In another edition of the series of head to head hosting comparison, I'm pitting Cloudways against WP Engine. Of course, we go through the process and hassle of testing out these hosting services to help you decide which one's are the best for your needs.
Cloudways vs WP Engine
Both of these are the giants of the hosting industry and if you are even remotely associated with WordPress, you must have heard about both of them.
Why Compare These Two
You might wonder why I decided to compare Cloudways with WP Engine. Here are some reasons:
Both are frequently discussed in the WordPress industry.
Both provide optimized hosting for WordPress.
Both have builtin feature sets like auto migration, staging sites, and website cloning, etc.
Both offers managed hosting solution with their state of the art platforms.
First, I will compare the signup process for the two providers. In this section, I will look to answer some questions regarding the signup journey and which of the two offers a smoother signup process.
Then I will dive straight into the platform of both the providers. Since Cloudways and WP Engine are managed hosting providers, their platform is the most important part of their offering. I will compare the two platforms based on user friendliness and feature sets that they offer to their customers.
Third, I will compare the performance of the two hosting providers. I will be launching a WordPress website on both, Cloudways and WP Engine and then run it on GT Metrix to check performance.
So let's begin!
Overview
Signup Process 
Cloudways
Platform 
Draw
Performance 
Draw
Head to Head Winner 
Draw
Signup Process
Let's start with the Cloudways' signup journey and see how convenient it was for me to start using their managed hosting solution.
I visited their website to sign up for Cloudways hosting, of course.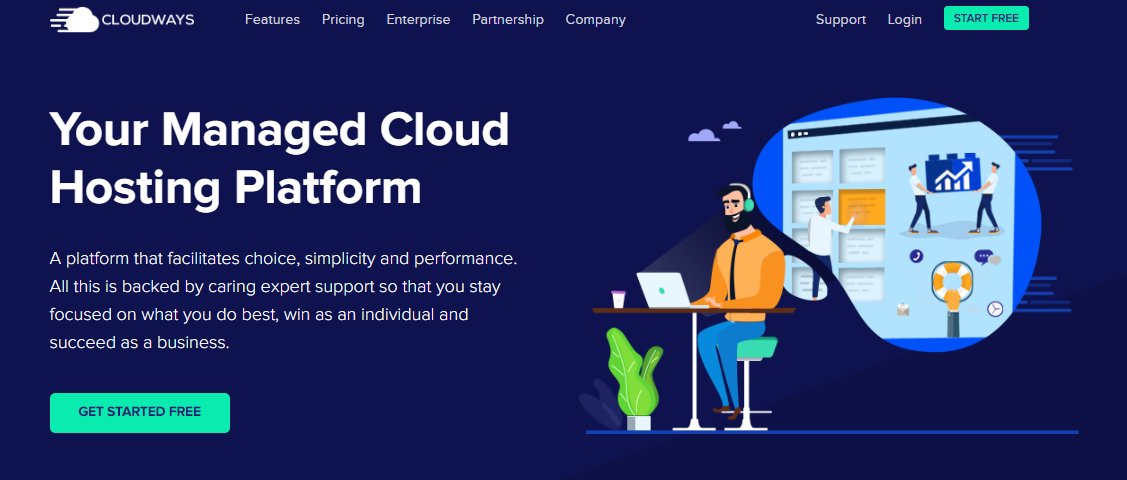 Cloudways have kept things simple and easy to understand on their website, and the two prominent CTAs helped me get started without much fumbling around.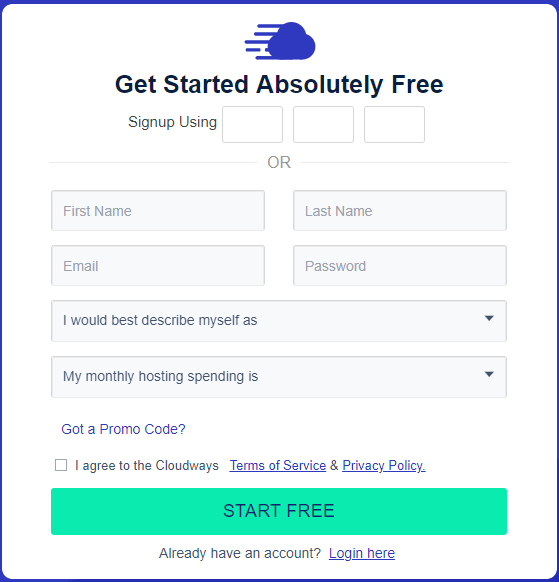 I had to fill this simple form and agree to the Cloudways terms and conditions, but these two interesting questions in the signup form caught my attention:

I was intrigued, so I asked the guys at Cloudways the purpose of these questions. What they tell me is that it helps them segment their customer data more effectively, which is good for Analytics and their decision-making process. Great, I'd be happy to provide this information if it means I fall in a certain bracket and get relevant services and offers.
After filling out the form and clicking on the Start Free, I was directed to this page where I had to launch my server and application.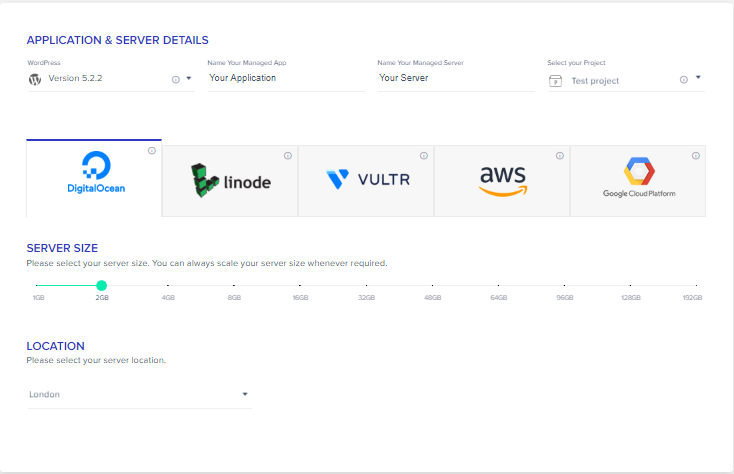 This is where the Cloudways UX gets really impressive. If I had to describe my experience of selecting my server and application details, I'd say it's like ordering your sandwich at Subway.
First, I had to choose my application and name it. As you scroll down this drop-down menu, there are options to choose different platforms like Magento and Opencart because Cloudways is not solely for WordPress. They offer managed cloud hosting on WordPress, PHP, Magento, Opencart, Prestashop and Joomla, so it's a win-win for most people.

After I selected the latest version WordPress application, I named it along with my server and project.
Next, you select the infrastructure. For those of you who don't know, Cloudways offers cloud hosting on 5 different popular providers and a 3-day trial on 3 of those.

If you hover on AWS and Google Cloud Platform, though, you'll see a 3-Day free trial offer on them as well. But, in fact, only DigitalOcean, Linode, and Vultr servers provide this option.

This is a possible faux pas on Cloudways' part, so if you're from Cloudways, you can get it fixed now 😉
However, kudos to Cloudways for disclosing the cloud infrastructure providers they are using and giving me the freedom to choose as well. The majority of the hosting providers don't disclose this information, let alone allowing their customers a choice.
For this review, I selected DigitalOcean as my cloud provider.
The next step was to choose my RAM.

For those of you who have followed my hosting review series, you know I've ranted before on how hosting providers don't mention the RAM size of their servers. Cloudways, on the other hand, lets me choose my server RAM size via the slider. You will notice that the ranges on the slider change when you change your server.
Not only do I love it, but this is an amazingly useful functionality that lets customers create a custom server suitable for their needs. Most hosting providers have a fixed RAM size and a single cloud provider so customers don't have much choice. Cloudways certainly has the edge here.
The final step is to select the data center for my server. Options in this drop-down menu also change when you switch to a different provider.

Once I was done creating my server, this popped up:
When I reviewed Kinsta vs. Flywheel, I mentioned that FlyWheel at this point pushed a plea to share them with my friends. I wasn't up for it for obvious reasons. With this Cloudways popup, though, they're asking me to refer their service in return for an incentive: I can get $20 off on my first invoice. That's a good deal, in my opinion.
But since this was my review account, I skipped this step and went straight to the platform.
To sum up my signup process with Cloudways, it was so simple and intuitive that I was having fun doing it, and I think that says enough about my experience.
WP Engine
Now it's time to review WP Engine's signup process. So WP Engine's website has a very lively feel to it. It caught my attention immediately and I just browsed the front page for a good 30 seconds before realizing I've scrolled this page many times before and I just came here to sign up. In short, it's a really captivating landing page!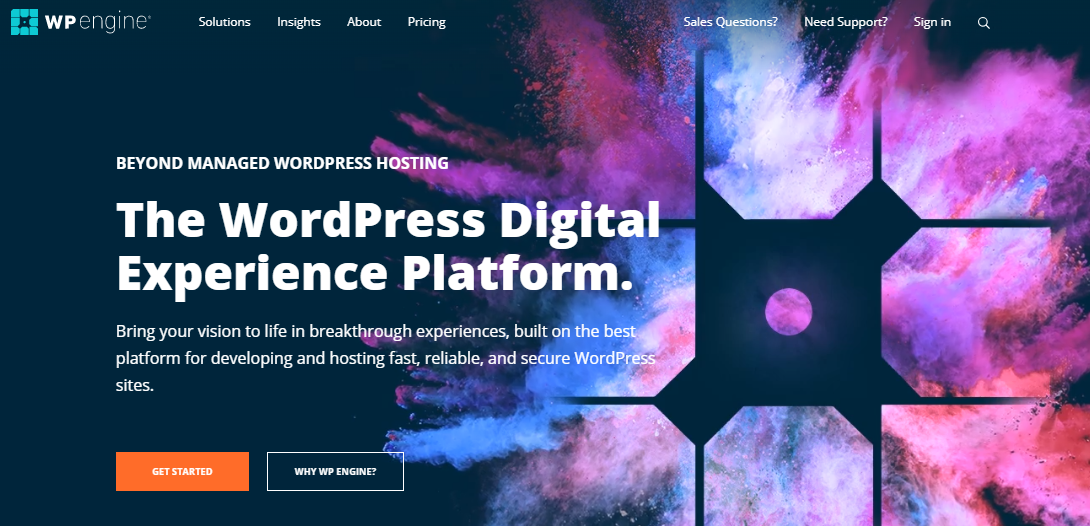 Before getting started, though, my curiosity made me click the WHY WP ENGINE button.
The button took me to a page where they shine more light on their platform and how it will make your business grow. It's a good addition to the decision-making process for a potential customer, letting them picture how WP Engine's services will be beneficial to them and their business..
Then I finally click the GET STARTED button.
I was glad to see that they let me choose the pricing plans first before asking me to signup. The pricing plans contained detailed information about what they will be offering which, again, makes the decision-making process easier.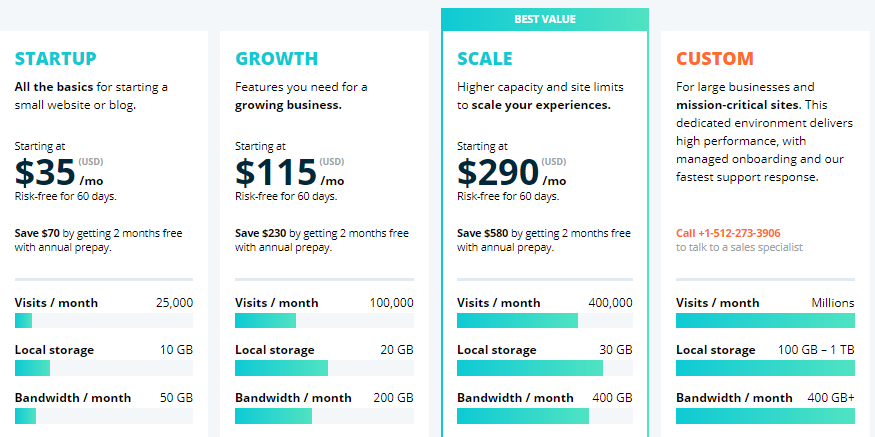 WP Engine, unlike Cloudways, does not mention the RAM size on their plans nor do they mention the cloud provider.
For this review, I chose the Startup plan.
The next step was to set up my account. WP Engine gave me a list of options that I can choose in addition to my plan. On the right, you can see how it has listed the features I am getting with my Startup plan. It even lets me change my plan if I decided to change my mind.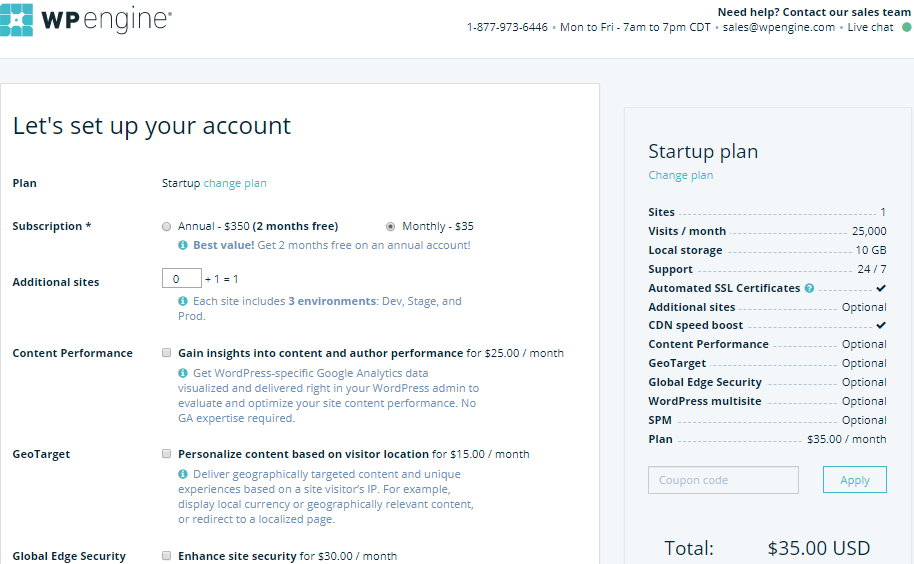 Upon scrolling down, I chose my data center and entered important information in the signup form.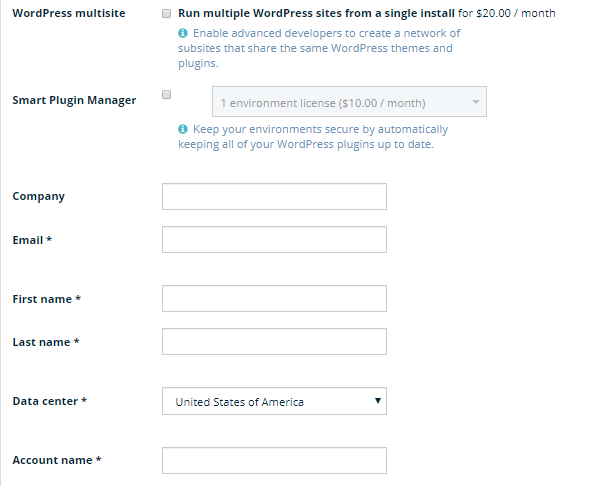 Then I entered my credit card information and I was done signing up and creating my account on WP Engine.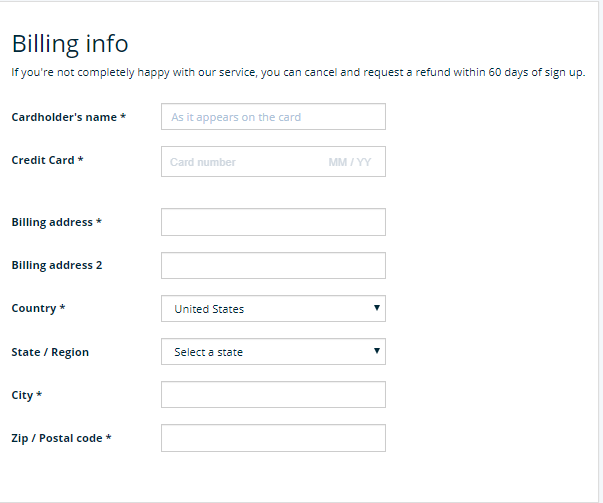 Now before we move on to the platform, I am going to give my verdict on who had a better signup journey.
My Verdict
Both Cloudways and WP Engine had a smooth signup process. I didn't face any time-consuming tasks nor was there any confusion. It was pretty straightforward on both services.
However, Cloudways was a tad bit more impressive. The option to choose my cloud provider and my RAM is something that no other hosting provider is offering and that makes their offering and signing up process more transparent and better!
Platform Experience
Now that we have tested the signup processes, it's time to dig in into the platforms. Both these hosting providers are known for their managed services with their platforms at their core. So sit back and enjoy this fiery contest between arguably the two of the best hosting platforms around.
Cloudways Platform
So after signing up, I logged into the Cloudways platform.

The first thing that caught my attention was the toggle on the left which lets me shift back and forth from Server management to Application management.
As you can see I have already launched a test server on Cloudways. The button on the right lets you add a new server and the process is the same as it was during the signup process.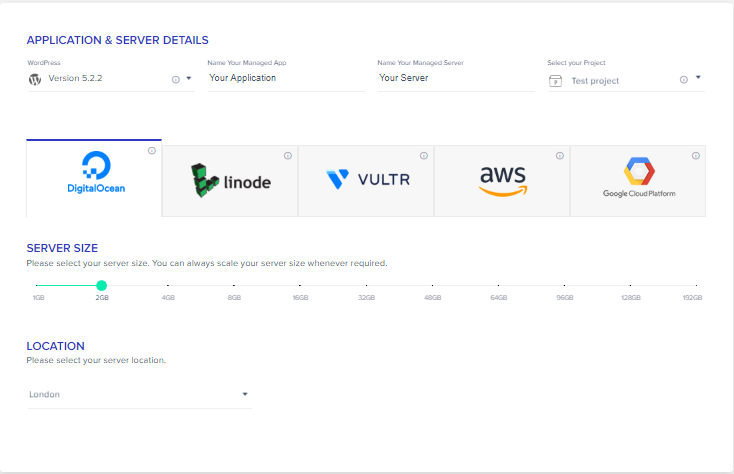 To manage my server, I clicked on the Test server that I had already launched on Cloudways.

So this is the first screen that I see in their server management.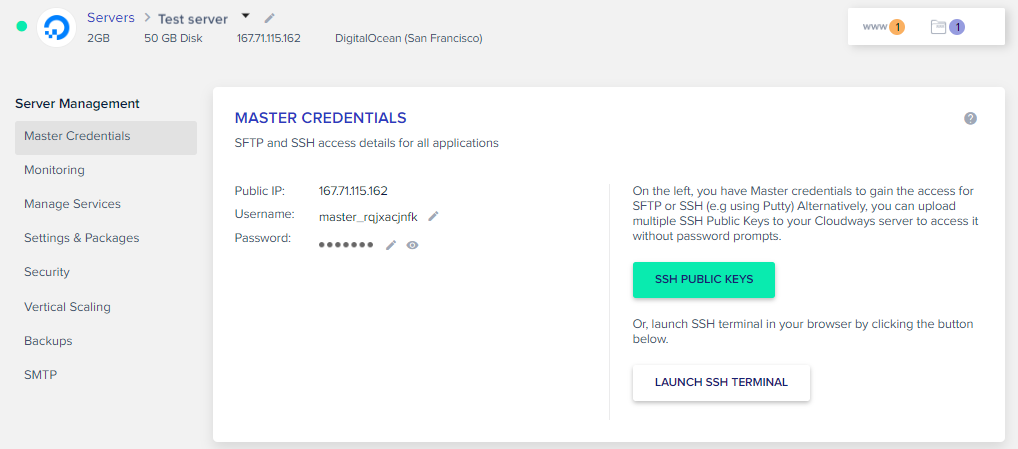 They have provided me the SFTP and SSH master credentials and I can also upload multiple SSH Public Keys to my Cloudways servers by clicking on the SSH PUBLIC KEYS button on the right.
On the top left, I can see my server details and the drop-down lets me access other servers that I may have launched on Cloudways.

These are all the server management options that Cloudways offers: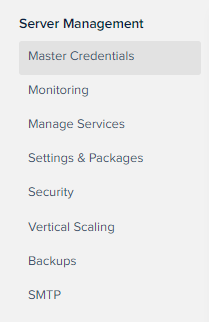 I will touch all of them to show you exactly what each function does.
Monitoring
The monitoring tab lets me see my server's resource usage. It tells me how much RAM I have already consumed and how much more I have at my disposal. CPU usage and Disk usage are also displayed here which are essential stats that helps users keep track of their resources.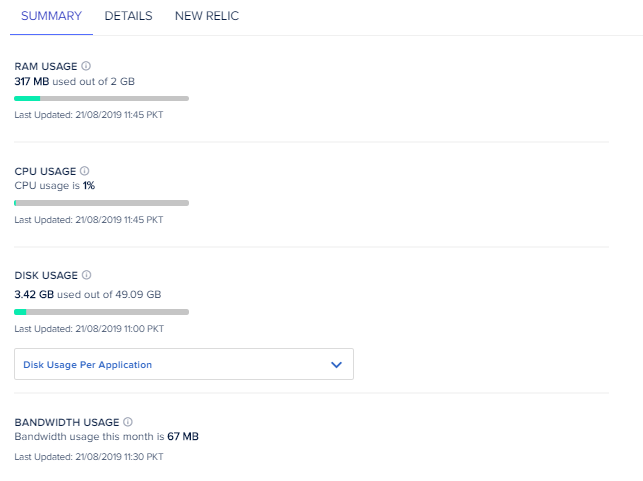 Below Disk Usage you can see a dropdown.
This shows a breakdown of disk usage per application. If you have other applications launched, they will show up here as well.
You must have noticed the three tabs on the top

The DETAILS tab further dissects my server usage and its details.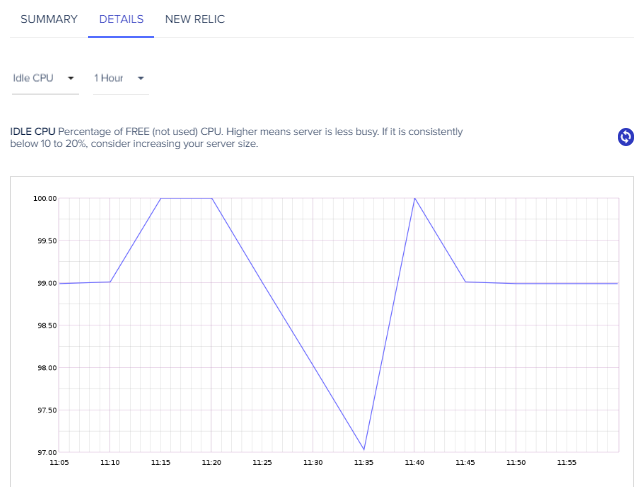 The graph tracks my resource usage after every 5 minutes but I can change the time range from the drop-down on the top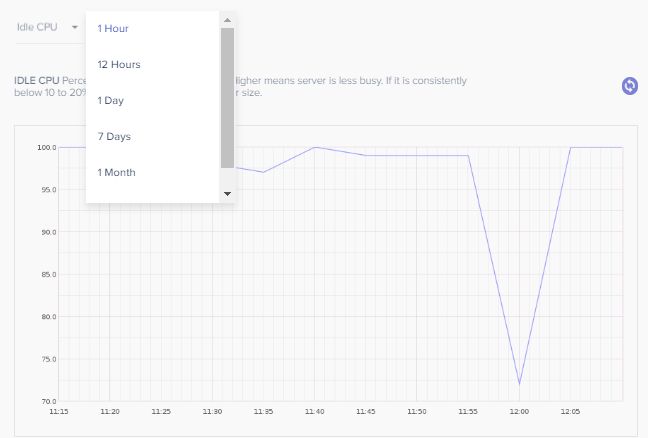 There is another drop-down right next to it which lets me select the data I want to analyze.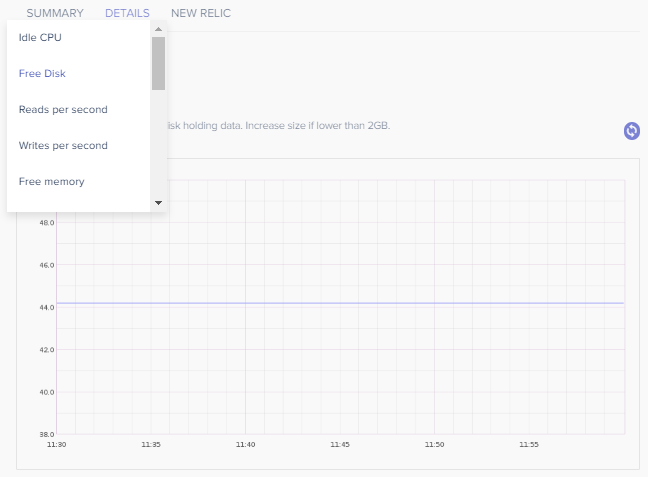 The third tab is New Relic. For those who don't know, New Relic is a renowned analytics company that offers analytics solutions to enterprises. Cloudways have partnered with New Relic to provide a deeper understanding of the data to its customers.

You can launch New Relic but you need to enable it through the managed services section which I will cover next.
Manage Services
The next part of their platform is Manage Services. This is where you get to manage your server, which is a core USP of Cloudways.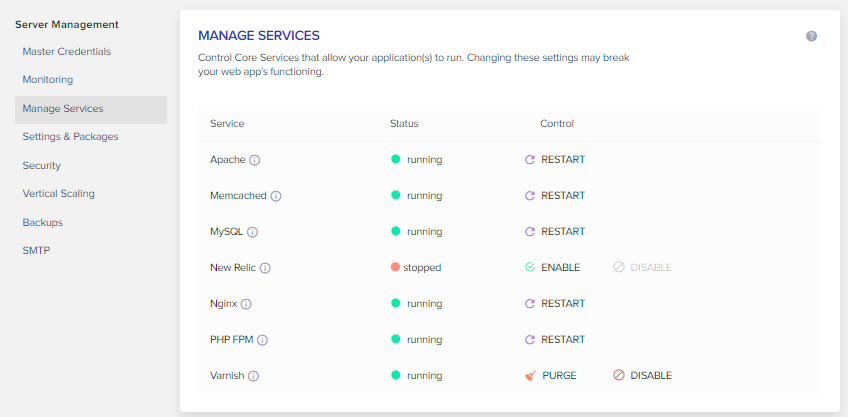 If you're someone who's known Cloudways for a while, you'd know that they used to have something called the ThunderStack, which was just a fancy name for their server stack. However, there's no denying that the services they offer are really useful, and you can easily manage them from this page.
You can enable New Relic from this section if you want to.
Settings and Packages
This section lets you manage various server level settings and packages like upload size and memory limit.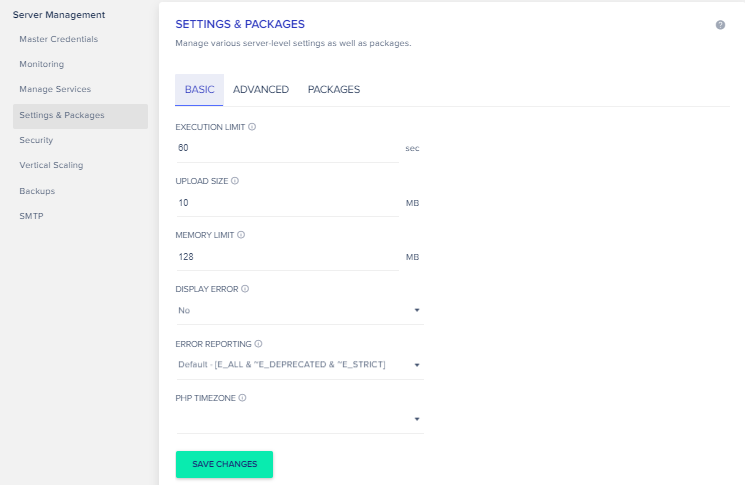 In the Advanced tab, you can manage services like PHP, MySQL, and NGINX. The Packages tab lets you control your PHP and MySQL version, and even lets you enable elastic search. You can also install Redis and Supervisord in this tab.
Security
Security is one of the standout features of Cloudways hosting. In the security tab, you can whitelist IPs to access certain users to access your server.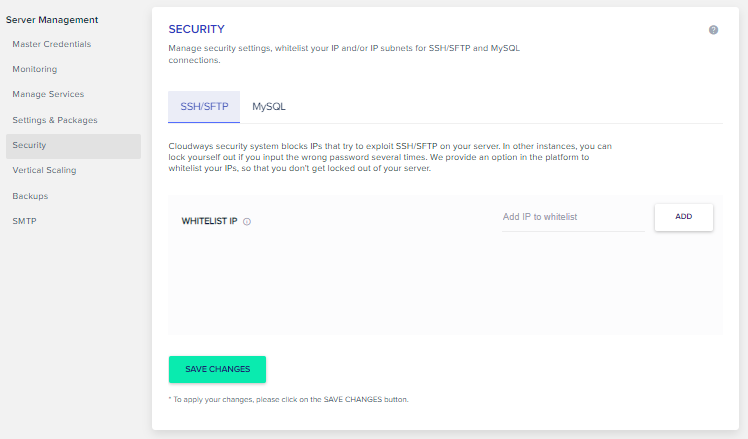 You can see that you can whitelist IPs to protect your SSH/SFTP and also MySQL database.
Vertical Scaling
Scalability is a feature that gives cloud hosting an edge over other types of hosting. The ability to change your server size any time is the essence of cloud hosting.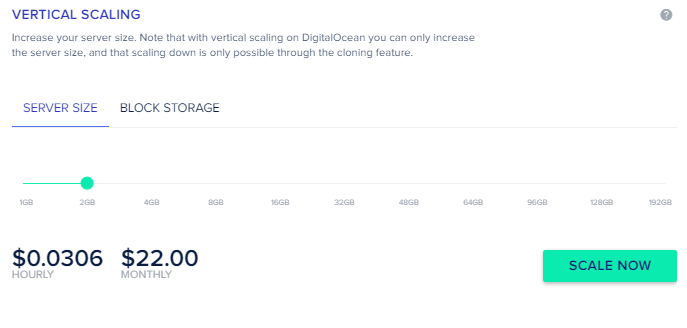 On Cloudways, I can increase my server size anytime I want using the slider. However, I can't scale down my server size on DO, Linode, and Vultr. If you want to both scale up and down your server size depending on your needs, you'll have to launch an AWS or a GCE server.
Moving on, the Block Storage tab lets me increase the available disk space of my server.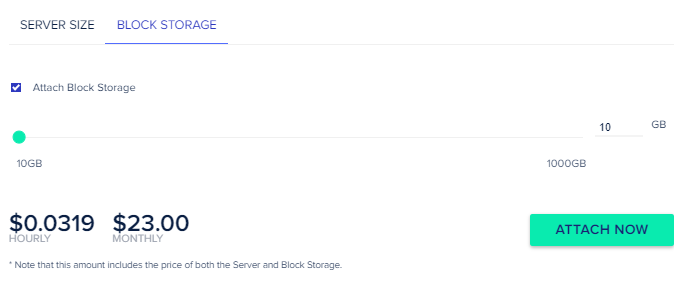 Again, I can use the slider to easily increase my disk space and click ATTACH NOW to apply.
Backups
The backup tab lets me set the schedule for my backups. While most hosting providers have a preset backup schedule, Cloudways let me choose this as well.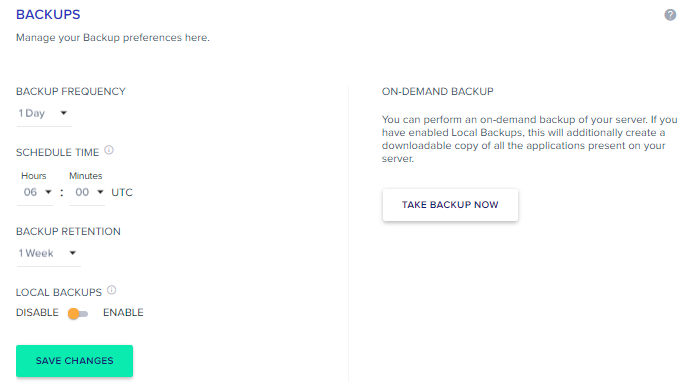 I can also demand a backup if I want to create backups right away.
SMTP
You can configure your SMTP service through this tab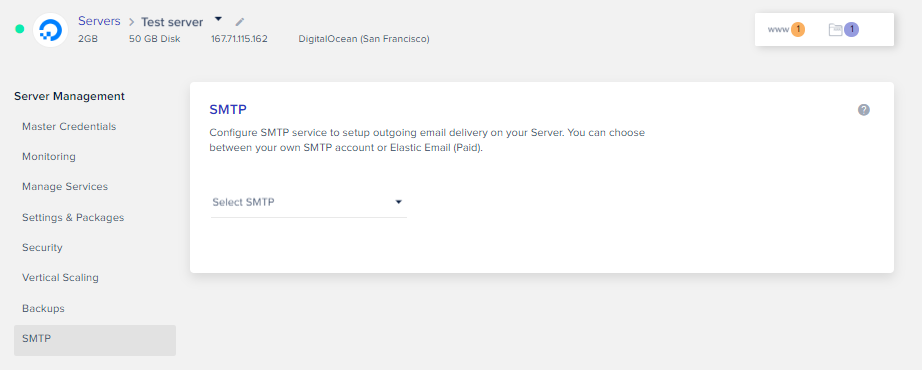 Now that we have tried their server management, let's see what Cloudways' application management has to offer.
To add a new application, you simply click on the Add Application button.

You will be asked to choose a server, which in my case was just one test server. Then click on the Add Application button. After that, just choose your application like I did when launching my server earlier in this review, name your application and project, and you are done!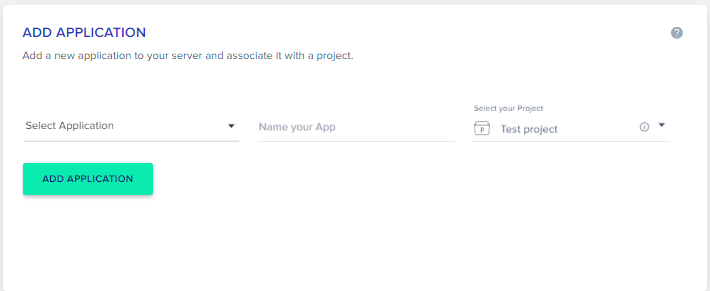 Pretty simple, right? I thought so too. Coming back to the Application Management, the first thing you see on their Application Management is your application URL and the admin access to your WordPress website.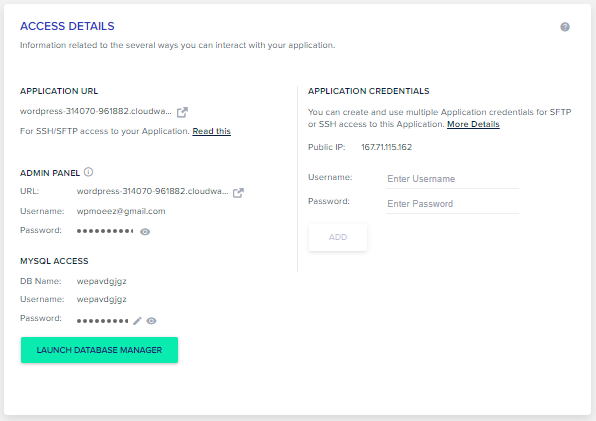 The domain management option lets you map your domain to your server.

Just enter your domain name and click Save Changes.
Cloudways' managed hosting comes with Let's Encrypt SSL certificate and you can add your own custom Certificate from the SSL Certificate option as well.

Migration Tools
To Migrate your site to Cloudways, you will have to install their migration plugin on your WordPress. Once you install the plugin, you will be able to easily migrate your site to Cloudways. This seemed like a good idea because other managed hosting asks you to fill a lengthy form and then their support team handles your migration.
However, I found myself lost and confused because there just isn't enough information in this section about migration. So I downloaded the plugin, what next? What is the next step in my site migration?
There is a small tooltip on the right which directs me to a KB but that's just adding to the hassle. As a user, I would want that information on this page or maybe a video tutorial that walks me through the entire migration process.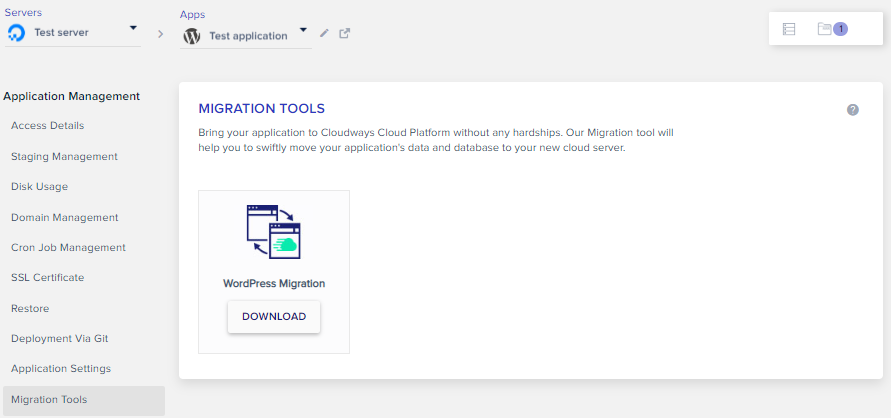 Cloning and Staging
When you are on the platform, you will see a hover button on the bottom right.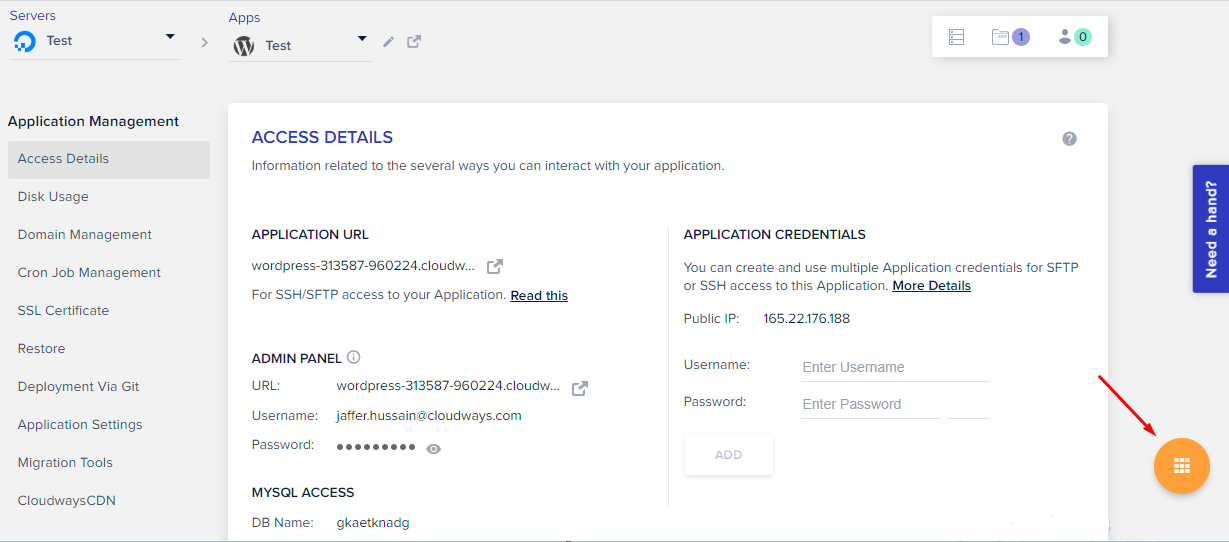 Move your cursor to this button and it will reveal cloning and staging options. You can also Add or Delete App through this menu.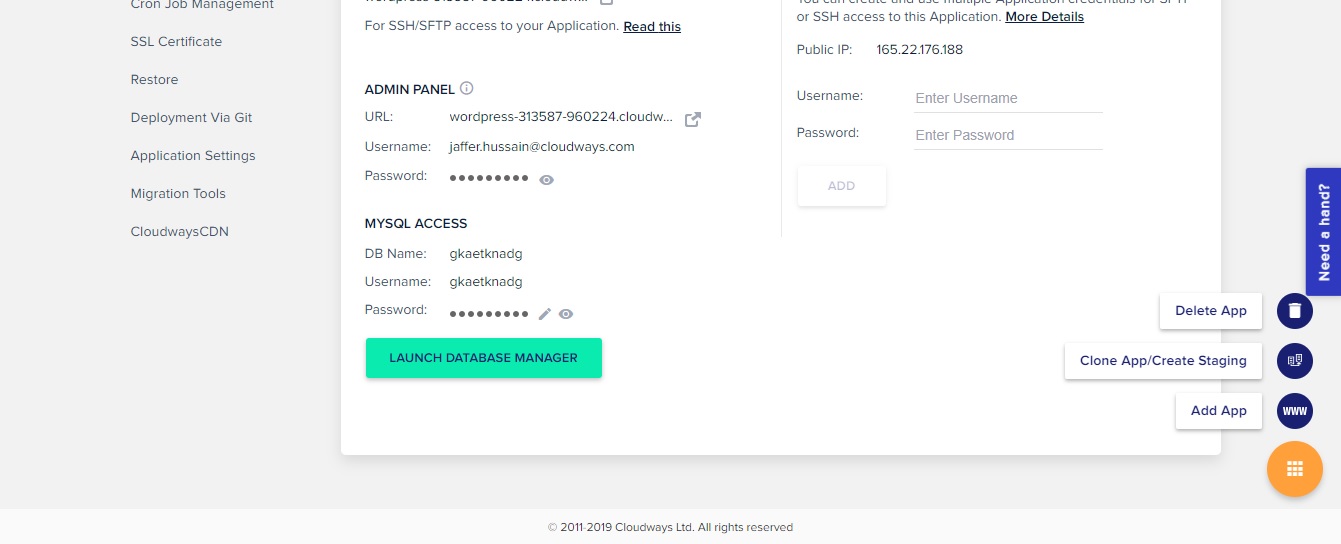 Click on Clone App/Create Staging button and you will be asked to select the server on which you want to clone your application.
Since I have just the one server on Cloudways, I selected the Test Server and before I click Continue, I check the Create as Staging so my clone site will be created as a staging site. If I just want a regular clone, I would skip this check and click Continue.
My new staging/clone site appears on the dashboard in just a few seconds

So Cloudways had a lot to offer through its platform. There are a lot of technical functionalities that might not be suitable for beginners as well, though and some users might not bother going into those features. Nonetheless, the platform handles many server-side functions that may require a lot of coding and time if done manually.
WP Engine
Let's see how WP Engine's platform compares to Cloudways managed services for their server and application.
So the dashboard throws a bunch of useful information your way.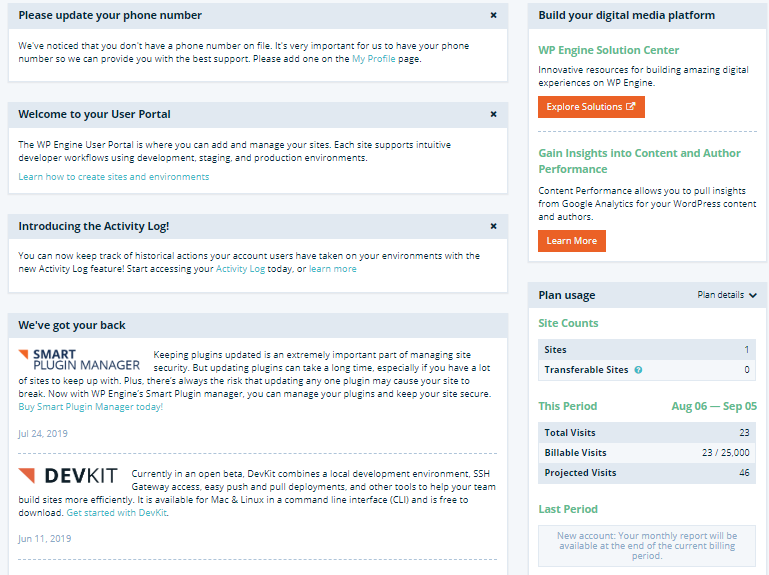 You'll notice that there is a link to a KB that shows how you can add and delete sites from your server. At the bottom right, you can see the Site Counts, which is the number of sites you have launched, and total traffic on your site.
At the top, there are some tabs which we will explore in this review.
The Sites tab is where you can access your launched websites.

So I launched a single site for this review which is visible on the dashboard and I can see the unique visits on my site and also the bandwidth it has consumed. I can add a new site by clicking the Add Site button on the right.
I clicked on my site to start my managed WordPress experience with WP Engine.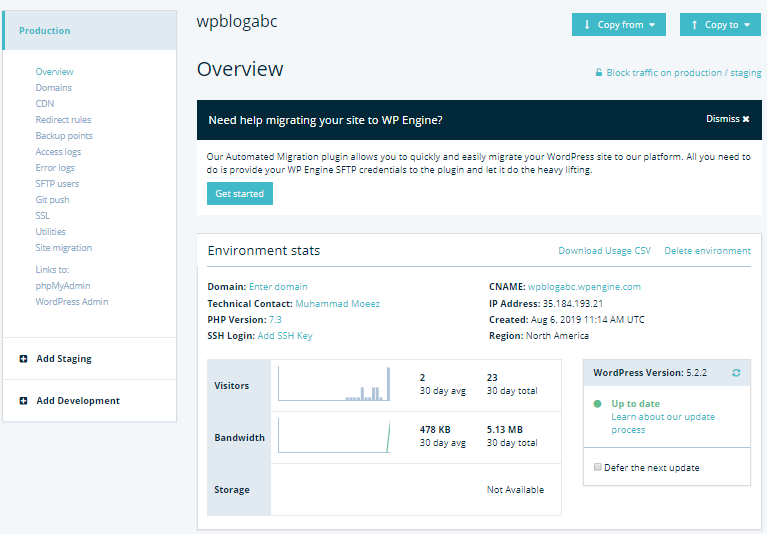 In the overview section, I can see a lot of useful data like visitors and bandwidth, presented in graphs.
This is where I can access my launched website: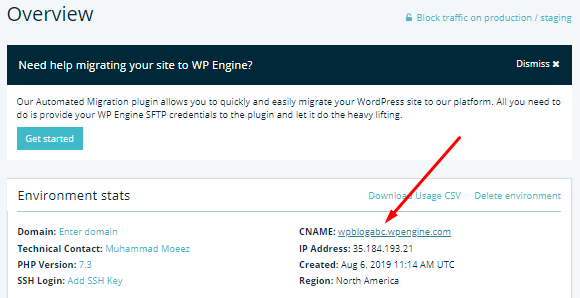 You can also see an Enter Domain option. This option lets me map my domain to this server which we will cover next.
Domain
So this is where I add my domain to my current server. Let's see what else this section has to offer.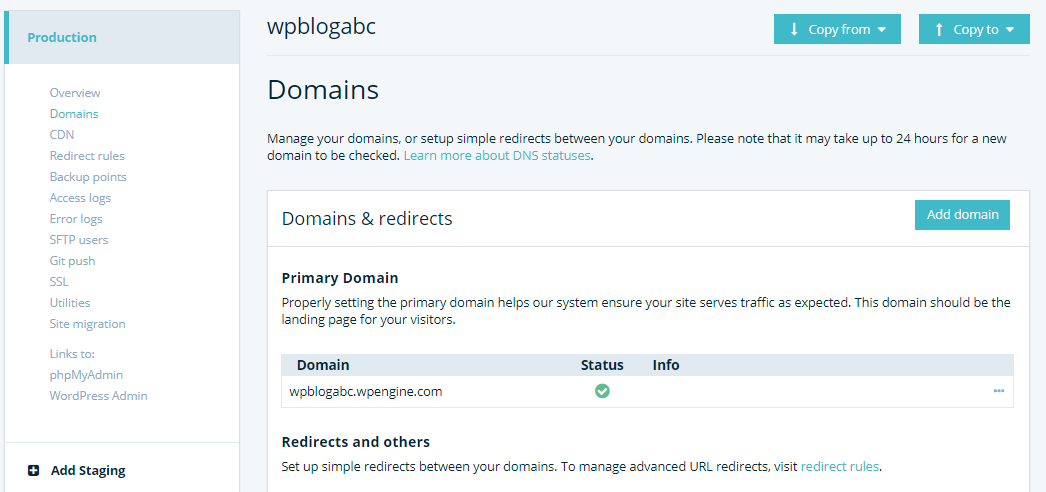 This part tells me my primary domain and some redirects I have made.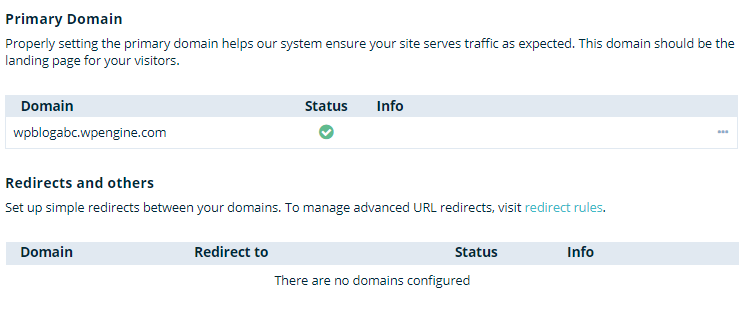 This page also shows my DNS details. This is important to know when I'll be mapping my domain to WP Engine.

To add a Domain, I click on the Add Domain button on the top right

Then I entered the domain name, clicked Next, and it's done. Pretty simple isn't it?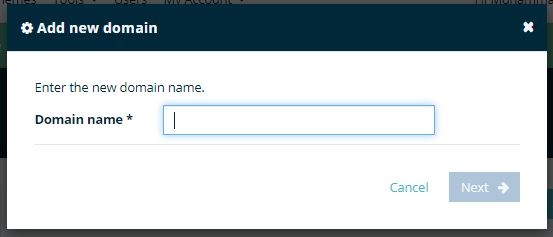 CDN
The CDN section is where I can enable or disable CDN on my application. Just click on this check, click Save, and it's done.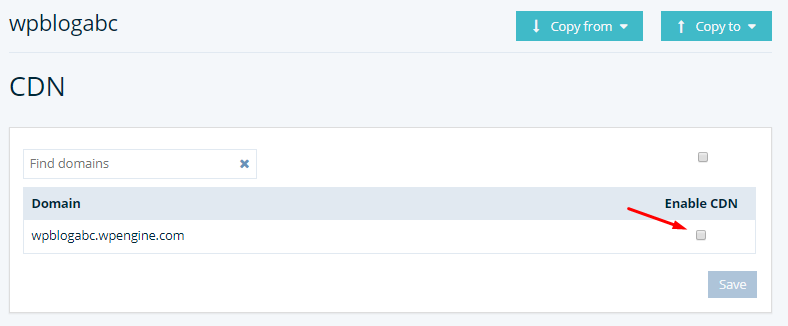 Back up Points
The Backup Points area shows my backups and the time they were taken. However, I couldn't see an option to schedule my backup. If you remember, Cloudways let me choose a date and time on which I would like to create my backups.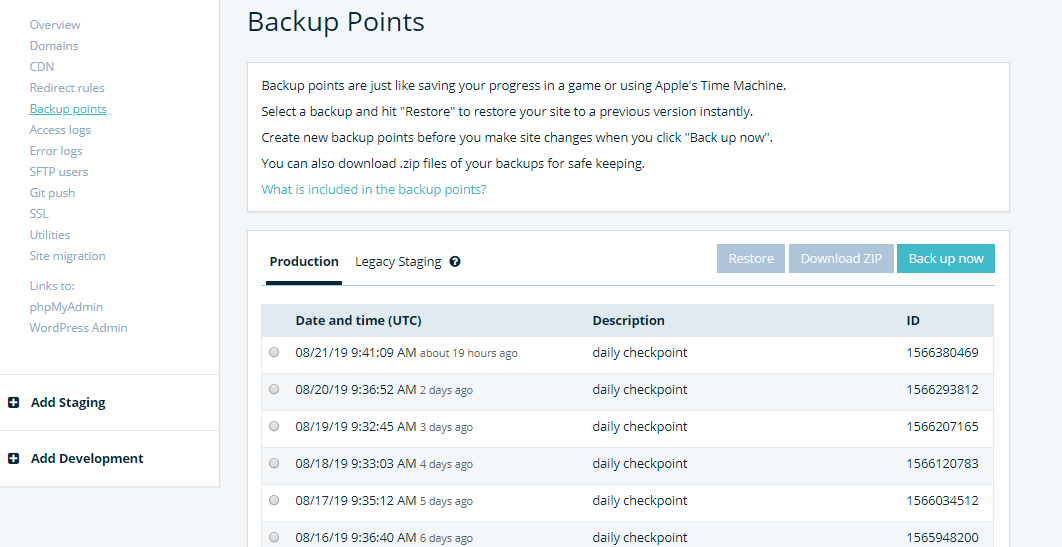 There is an option for immediate backup though. The Back up now button lets me take a backup on the spot if need be.

Access Logs
So if I wanted to download my apache on nginx access logs, I can easily do that from the Access Logs section. I can also refresh my logs from here.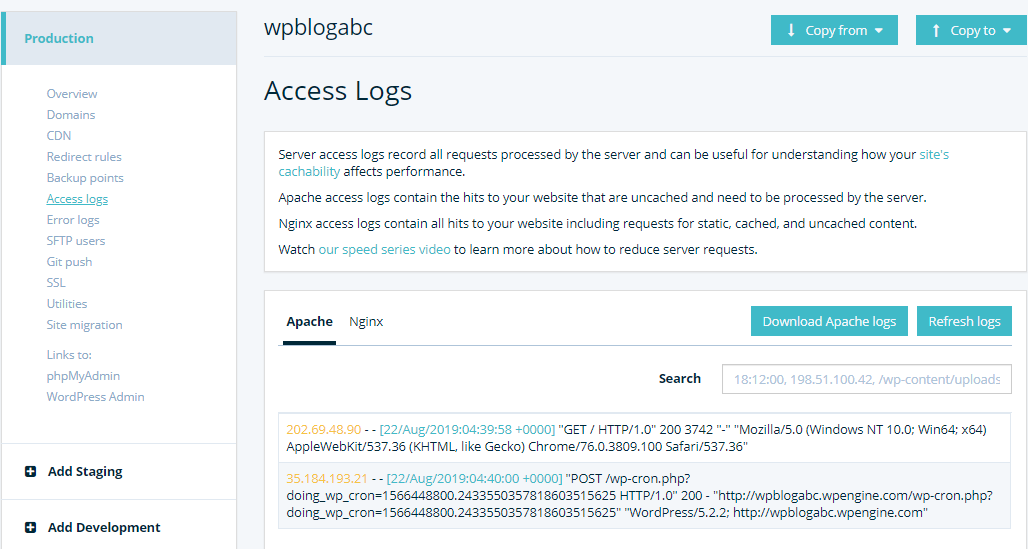 SSL Certificates
WP Engine lets you add SSL Certificates on your application at the click of a button, just like Cloudways. To add an SSL Certificate, I clicked on Add Certificates button.

I was then given multiple options regarding SSL Certificates. I can either add a free certificate from Let's Encrypt or I can buy Rapid SSL.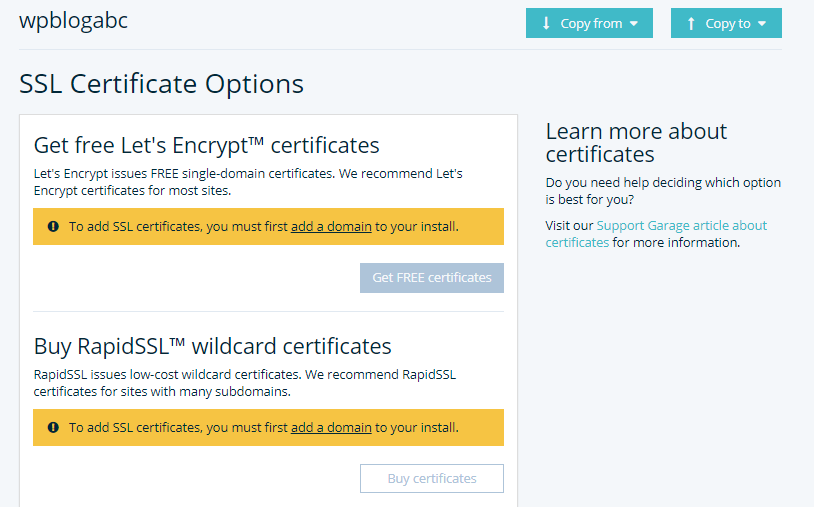 I can also import and export certificates.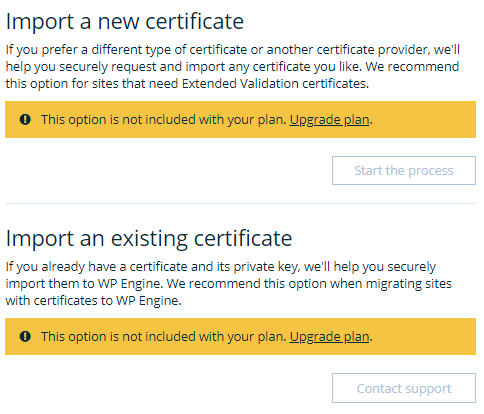 Site Migration
WP Engine offers both automated and manual site migration.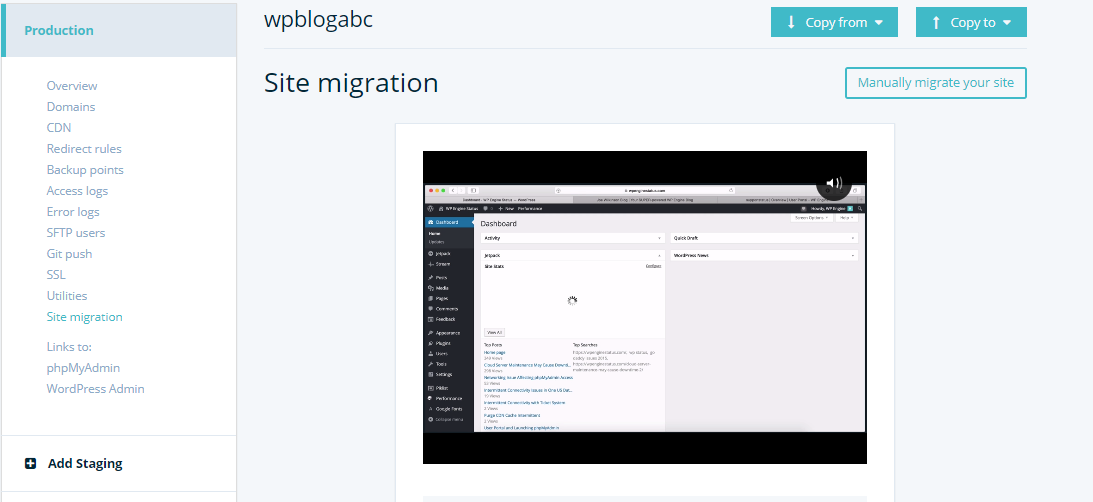 For automated migration, the process is pretty much similar to Cloudways. However, they do have a video tutorial for site migration. When I was reviewing Cloudways, I mentioned how there was not enough information on migration. WPengine, on the other hand, rather than directing me to a KB, displays all the important information right where I want it. The video tutorial tells me all I need to know about migrating my site to WP Engine.
Here is where I find the link to the migrator plugin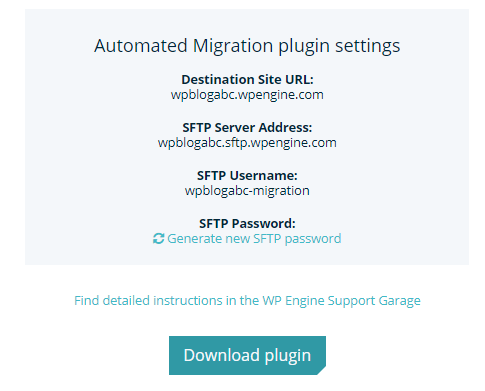 Staging Site
Right at the end there is an option to add staging sites.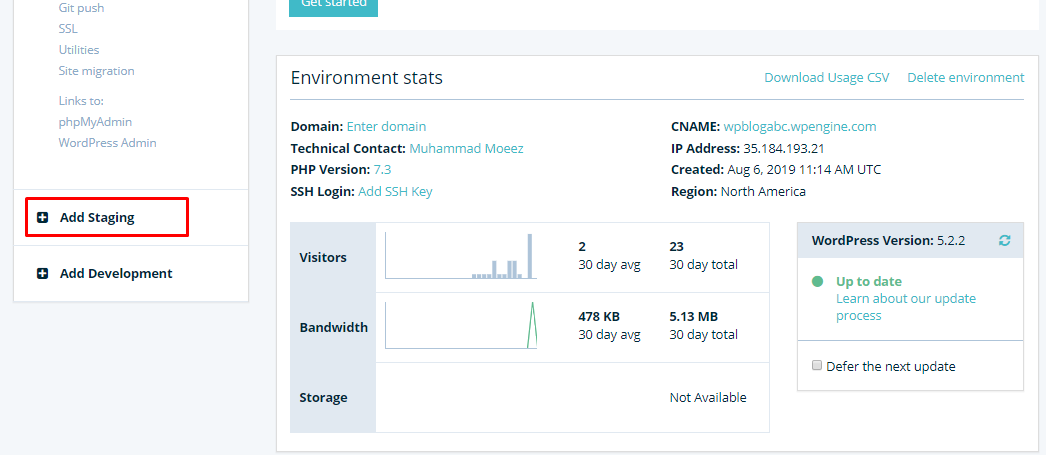 I have a few options when I am creating my staging environment. For example, I can create a completely new staging site.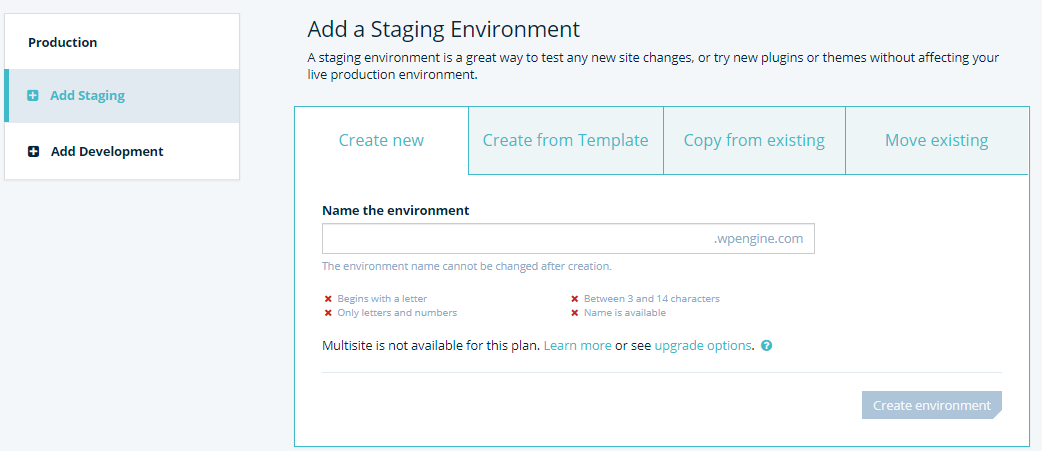 I just have to name my staging site and click on Create Environment.
I can also create a staging environment from an existing template which comes with pre-installed themes and plugins.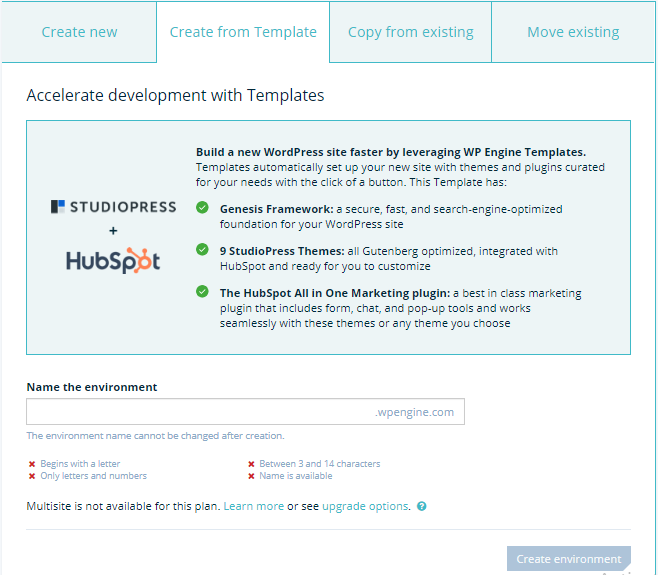 Copying from an existing environment is also an option. I can create a replica of a site I have already launched on WP Engine and convert it into a staging site. The original site won't be affected.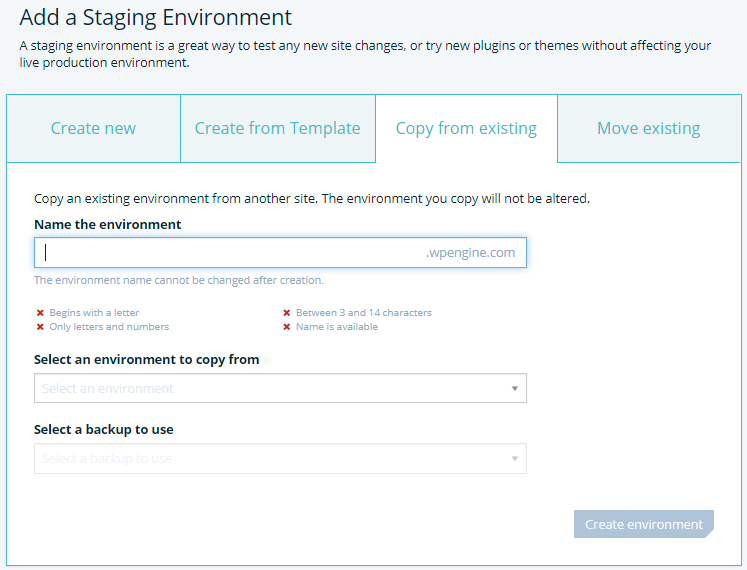 Or I can move an entire environment to staging.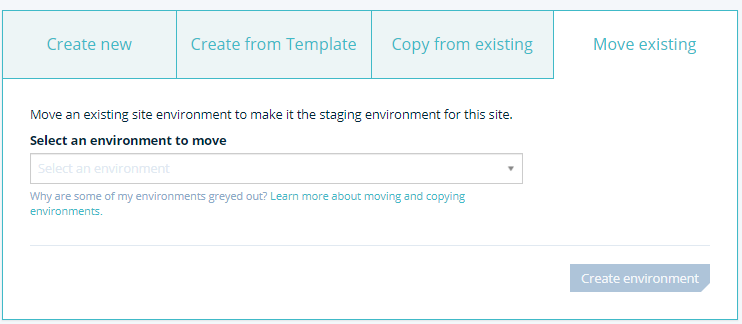 So that is a very impressive way to setup a staging environment. WP Engine gives me a lot of options to choose the type of my staging environment which makes it easier to create one.
They offer the same process for development sites.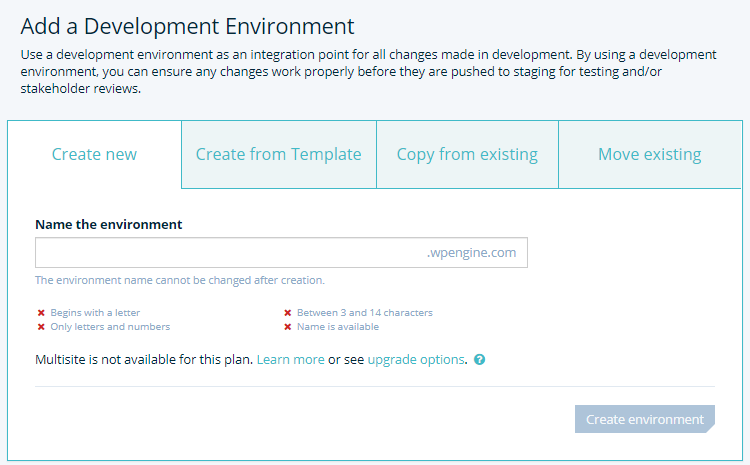 So that was all from WP Engine's platform. After using it, I must say it's as powerful as any other platform in the industry. It offers useful functionalities and ease of use at the highest level. No wonder there is so much talk about WP Engine in the community.
My Verdict
It's tough to pick a winner between the two platforms. Both are powerful and effective and provide good value to their customers. Cloudways' platform offers server-side functionalities as well which WP Engine doesn't. However, WP Engine's cloning and migration functionality are better than Cloudways.
I will have to call it a draw. Both these hosting providers offer something that is difficult to match by any other competitor. Using their platforms made me feel that there is concrete research behind it and that user feedback is taken very seriously.
Performance
Now that we are done with the signup process and the platform, it's time to test their performance. I have launched single sites on both the platforms on United States data centers and I will test them on GT Metrix.
Let's begin!
Cloudways
https://gtmetrix.com/reports/wordpress-314070-961882.cloudwaysapps.com/sxIqhdJy

https://gtmetrix.com/reports/wordpress-314070-961882.cloudwaysapps.com/sLNm6lia

https://gtmetrix.com/reports/wordpress-314070-961882.cloudwaysapps.com/7anX8inL

WP Engine
https://gtmetrix.com/reports/wpblogabc.wpengine.com/aTK9k9eI

https://gtmetrix.com/reports/wpblogabc.wpengine.com/NCTbq4xJ

https://gtmetrix.com/reports/wpblogabc.wpengine.com/d628gcvB

My Verdict
Both Cloudways and WP Engine scored almost identical load times. WP Engine however earned a 100% on PageSpeed Score. It's YSlow score was also better than Cloudways but with very similar load times. I would again have to call a draw as there is no significant difference between the two performances.
Final Words
So this was a stretch wasn't it? I may have dragged this review a bit longer but I had no other choice. The features these two providers offer are immense and needed to be discussed in detail to properly compare them with each other.
I have to say that we folks at WPblog are huge Cloudways fans. Since we moved with them, we've never had any kind of trouble related to hosting. However, after testing WPEngine, we believe that it may be able to deliver a similar experience to users as well. You can go with either cloud hosting solution and we're sure you'll leave your digital well being in good hands!
Learn more about WP Blog by visiting their website.